A week-long COVID-19 vaccination blitz is current underway in one East York neighbourhood.
Taylor-Massey, which is home to the Crescent Town community, has the lowest vaccination rate in all of Toronto.
According to the City's COVID-19 dashboard, which was last updated on July 8, 51 per cent of those eligible to get the shot and 57.6 per cent of eligible adults in that area have had at least one dose of the vaccine. City-wide, 68.8 per cent of those eligible and 78.0 per cent of eligible adults have "initiated vaccination."
Since last Saturday (July 3), dozens of multi-lingual community ambassadors have fanned throughout Taylor-Massey to share information, answer questions, and encourage people to get vaccinated.
WoodGreen (WG) Community Services, with the support of The Neighbourhood Organization (TNO), Access Alliance, Bangladeshi-Canadian Community Services, and other East Toronto Health Partners agencies, is leading and coordinating this effort, which has seen teams knocked on upwards of 1,800 doors and handed out more than 1,200 vaccination appointment cards.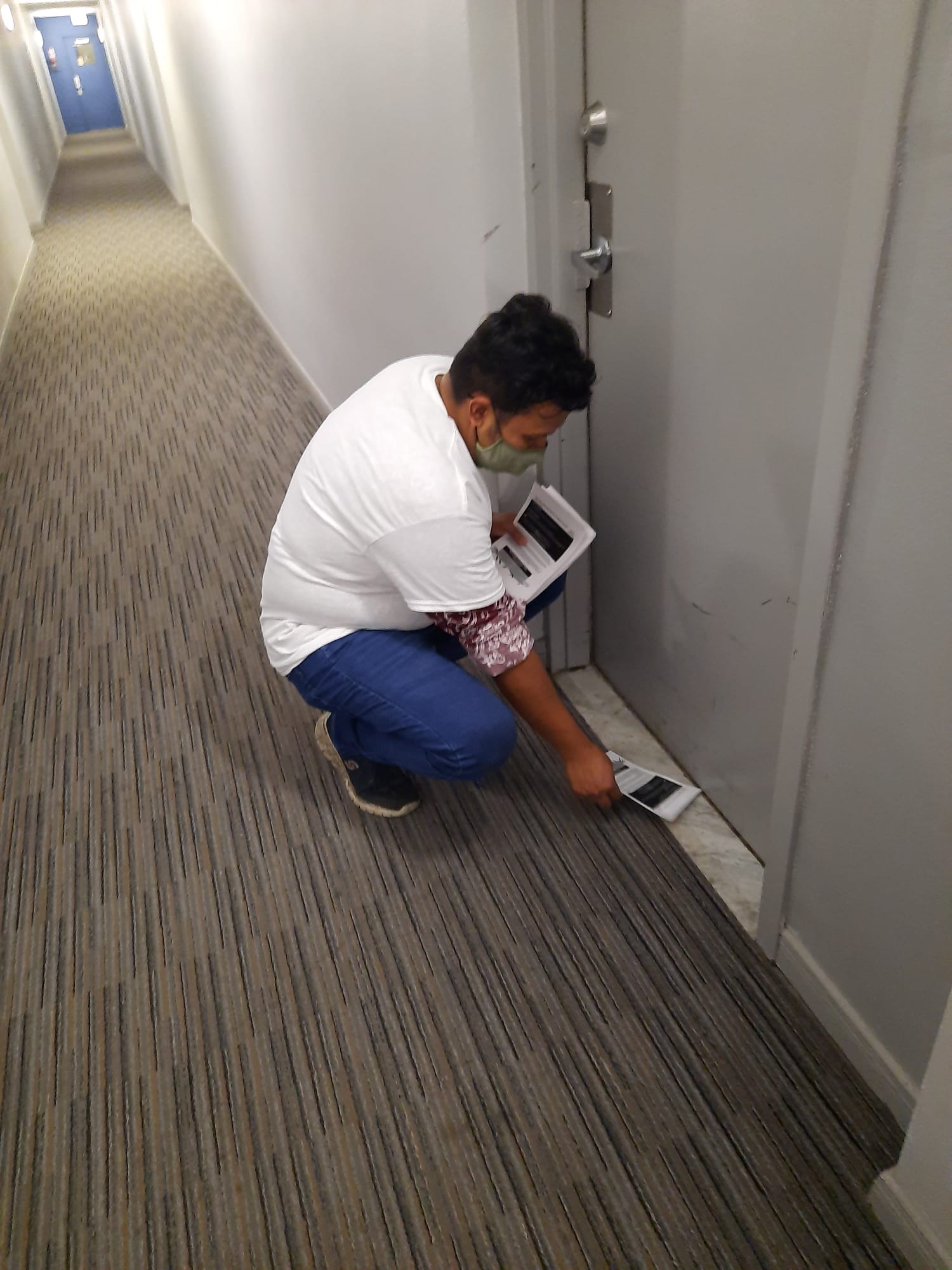 A volunteer from Bangladeshi-Canadian Community Services puts a vaccine info flyer under an apartment door in east Toronto's Taylor-Massey area.-BCCS photo
Since Tuesday, at least 550 people have been inoculated at local pop-up clinics run by Michael Garron Hospital (MGH).
This weekend (July 10 and 11), people can get their shot between 8 a.m. and 4 p.m. at Joshua Cronkwright Parkette on Dawes Rd.
"We really want to reach the community, to get them to come out, and get vaccinated," said Nadjib Alamyar, WG's manager of newcomer wellness.
"This is local outreach, word of mouth, building to building. … Our goal is really to get the vaccination numbers up."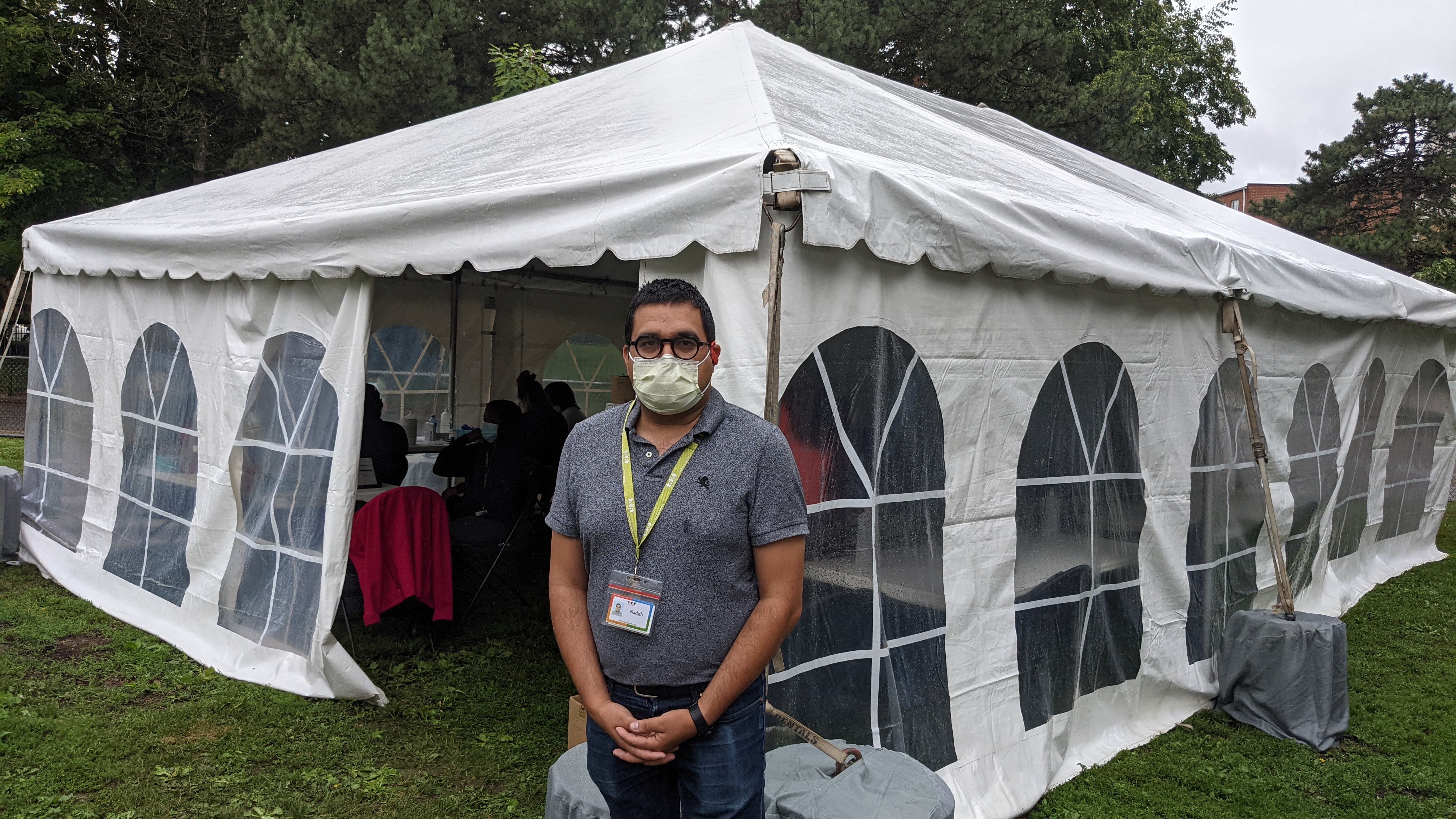 Nadjib Alamyar, WoodGreen Community Services' manager of newcomer wellness, has spent the last week leading a project to address barriers to accessing vaccines in East York's Taylor-Massey area.-Joanna Lavoie/Torstar
Community Ambassador Farjana Yasmin said she's seen fair bit of vaccine hesitancy in the community.
Yasmin, who is with WoodGreen, said many are concerned about the aftereffects of the shot, while others have trouble with the online booking system. She said some, for a myriad of reasons, are unable to get vaccinated outside their community. The nearest clinic is at Warden Woods, which is 40 minutes away by foot.
"When there's a pop-up clinic here, that works better for them," she said, noting the heat and pouring rain didn't deter people from getting inoculated close to home this week. 
Yasmin, who speaks Bengali, said an important part of her role is to help people feel comfortable.
"Speaking their language helps. People are able to better articulate their concerns and ask questions," she said.
"It's heartwarming to see the gratitude on people's faces. It makes our efforts worthwhile."
Fellow ambassador Razia Rashed, of TNO, said Taylor-Massey is also home to a lot of undocumented people, international students, and refugees, many of whom are not eager to be on the government's radar in any way.
"It's not that they aren't ready for the vaccine, but they're fearful," she said, adding it would really help if employers gave people paid time off to get the shot.
Rashed, who speaks Bengali, Urdu, and Hindi, said her job is to clearly explain to people what the vaccine is all about and provide them with resources.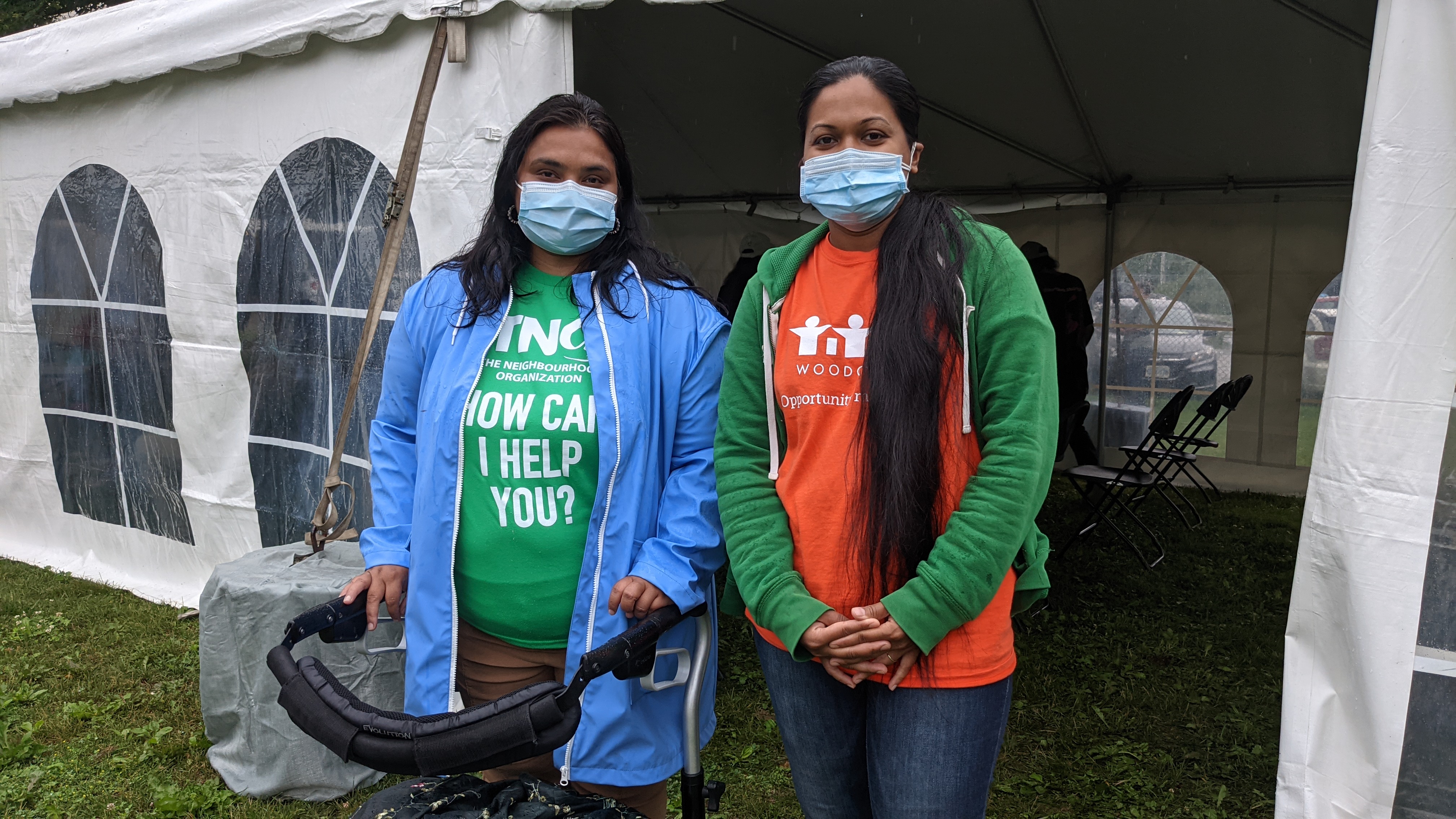 Community Ambassadors Razia Rashed, left, and Farjana Yasmin, stand outside a pop-up vaccination clinic at Joshua Cronkwright Parkette in East York's Taylor-Massey area on June 9.-Joanna Lavoie/Torstar
In a statement, Phillip Anthony, the manager of MGH's East Toronto Mobile Vaccination Strategy, said building vaccine confidence requires creating trusting relationships with people in the communities they serve.
Loading…
Loading…Loading…Loading…Loading…Loading…
"We are grateful to work with local community agencies, elected officials and members of East Toronto Health Partners to better understand the hyper local needs of priority neighbourhoods in East Toronto, including Taylor Massey (Crescent Town)," he said.
"Our partners' community ambassadors are deeply embedded in Taylor Massey and speak with residents every day – visiting apartment buildings and going door-to-door – to encourage them to visit nearby pop-up clinics and identify any potential barriers to accessing the vaccine."
Anthony went on to note that Taylor-Massey, which he said is "nestled between more affluent Toronto postal codes that have been less affected by COVID-19," was not included in Toronto's SPRINT Strategy. As a result, vaccine access was not prioritized in Taylor-Massey and vaccine eligibility for these residents came later than some of the area's other priority neighbourhoods.